Integratie van het online archief in de nieuwe website van World Press Photo, gelanceerd op 23.04.2015
De opdracht was het creëren van politiek- en foto-historische context rondom alle winnende (pers)foto's in het World Press Photo archief binnen een nieuwe online omgeving. Daarnaast moest het archief voor een breed, internationaal publiek toegankelijk worden gemaakt. Enerzijds via een gebruiksvriendelijk zoeksysteem met trefwoorden en anderzijds via een timeline en themapagina's. De opdracht behelsde ook het achterhalen van zo veel mogelijk ontbrekende informatie en foto's, vooral uit de vroege periode 1955-1970.
Dat betekende drie jaar schatgraven in het World Press Photo archief (collection) van ruim 12.000 foto's, gemaakt tijdens de periode 1955-2014 door 1500 fotografen uit 80 verschillende landen.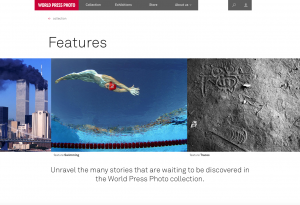 De meeste mensen kennen World Press Photo van de harde nieuwsfoto's, bijvoorbeeld van de Vietnamoorlog. In de jaarlijkse wedstrijd en tentoonstelling krijgt echter de hele bandbreedte van de fotojournalistiek, inclusief sport, natuur, techniek en kunst, een podium. Op de nieuwe website komt de rijkdom van de collectie beter tot zijn recht, onder andere via de themapagina's en via de collecties die gebruikers zelf aanleggen en met elkaar delen, de fan boards. De timeline biedt toegang op jaar en daarmee een prachtig chronologisch overzicht van de veranderingen en ontwikkelingen in de pers- en documentaire fotografie sinds 1955.
Werkzaamheden: eindverantwoordelijk voor alle nieuwe content m.b.t. het online archief, onderzoek, beeldredactie, teksten, opzetten en begeleiden van de onderwerpsontsluiting (via controlled vocabularies en tag libraries) en crowdsourcing van ontbrekende informatie via social media.
English summary: As member of World Press Photo's online team (2012-2015), I was responsible for creating a new online context for all World Press Photo winning images since 1955 (more than 10,000 photos) including background research into the political, socio-economical and photo-historical context of these photos, the creation of additional thematic pages and a user-friendly keyword system, enabling research.
Update 2019: Recently, World Press Photo completely renewed its website once again. In doing so, it has removed the theme pages, the pages with historical and photographic context, and all other additional information we created to enrich the archive. Unfortunately, it is no longer possible to search the archive accurately by subject, and it is no longer possible for visitors to create collections. 
Photo above: Vincent Mentzel, Joop Swart, Director of World Press Photo with Contest Entries, c. 1978-1985 (Collection Rijksmuseum, Amsterdam)