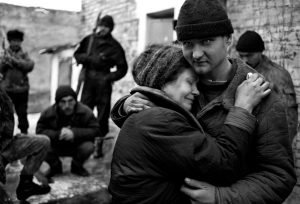 Oleg Klimov
Tentoonstelling: 17de Maand van de Fotografie, Bratislava, november 2007
Een selectie van 25 foto's van de Russische fotojournalist Oleg Klimov uit de tentoonstelling die eind 2004 in Huis Marseille te zien was onder de titel: Erfenis van een wereldrijk ('Mijn verdoemde Land'). Op de foto's zien we door Klimovs ogen het einde van het Sovjetregime met portretten van Andrej Sacharov op de laatste dag van zijn leven, de opkomst van Boris Jeltsin, het begin van de oorlog in Tsjetsjenië en de mislukte staatsgrepen aan het begin van de jaren negentig. Aangevuld met reportages uit alle uithoeken van het afbrokkelende wereldrijk.
Werkzaamheden: selectie, zaaltekst, organisatie, inrichting (met Simon Kool)
English summary: Curation of an exhibition of photographs by Russian photojournalist Oleg Klimov for the 17th Month of Photography in Bratislava, Slovakia (2007), previously shown at Huis Marseille.
Photo above: Oleg Klimov, Fish factory at Aral Lake, Uzbekistan, 1992