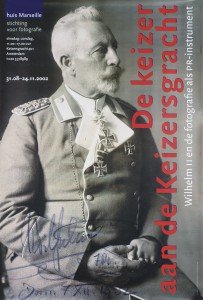 Wilhelm II en de fotografie als p.r.-instrument
Tentoonstelling: Huis Marseille, 31.08 – 24.12.2002
Catalogus: zie Publicaties
De tentoonstelling presenteerde voor het eerst een ruime keuze uit de bijzondere fotoverzameling van de laatste Duitse keizer, die van 1919 tot zijn dood in 1941 als balling in Huis Doorn woonde. Uit de foto's blijkt dat Wilhelm II een van de eerste Europese vorsten was die op moderne wijze de fotografie voor zijn eigen public relations gebruikte. De foto's werden in allerlei vormen verkocht of gepubliceerd in de geïllustreerde pers. Opmerkelijk is dat Wilhelm hierin nauwelijks onderscheid maakte tussen zijn leven als privé-persoon en zijn leven als Duits keizer. Overigens kon hij, in tegenstelling tot zijn koninklijke collega's van tegenwoordig, zijn beeldvorming nog min of meer in eigen hand houden. Wilhelm stond weliswaar regelmatig in de vuurlinie van enthousiaste amateurfotografen, maar echt last van paparazzi had hij nog niet.
Werkzaamheden: conceptontwikkeling, selectie, onderzoek & teksten (met Liesbeth Ruitenberg), organisatie & coördinatie, productiebegeleiding, subsidieaanvragen, inrichting, redactie & productie van bijbehorende catalogus
English summary: Research, curation and production of the exhibition and accompanying catalogue The Kaiser at the Keizersgracht: Wilhelm II and Photography as PR Tool featuring the photo collection of the last German Kaiser, which is still preserved at Huis Doorn, his final residence and resting-place in the Netherlands. The exhibition was shown in Huis Marseille in 2002 and in the Neues Palais in Potsdam in 2005.
Photo above: Ottomar Anschütz, Parade to mark the 200th anniversary of Prussian kingship, Unter den Linden, Berlin, 17 january 1901 (Collection Huis Doorn)