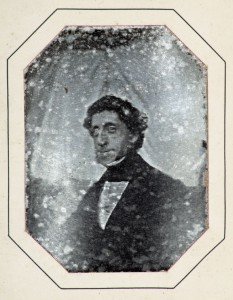 Daguerreotypieën van de familie Vriesendorp
Twee artikelen (zie: Publicaties): Jaarboek 2006 Vereniging Oud-Dordrecht; Familie in Beeld – Vriesendorp uit Dordrecht.
De twee artikelen zijn het resultaat van onderzoek, uitgevoerd in opdracht van de Vereniging Oud-Dordrecht, naar een groep van dertien daguerreotypieën (periode 1842-1861) in bruikleen bij het Stadsarchief Dordrecht uit de nalatenschap van de bekende Dordtse familie Vriesendorp. In de collectie werd de op dat moment oudst gedateerde foto van Nederland aangetroffen. Maar wat de verzameling ook bijzonder maakt is het gegeven dat deze daguerreotypieën feitelijk onderdeel uitmaken van een veel omvangrijkere verzameling familieportretten (die nog bij de familie worden bewaard), bestaand uit schilderijen, pastels, tekeningen, litho's en foto's in allerlei vormen.
Werkzaamheden: archief & bronnenonderzoek (Stadsarchief Dordrecht, Familiearchief Vriesendorp), teksten
English summary: Research project on daguerreotypes of the Vriesendorp family from Dordrecht, the earliest photographic portraits in Dordrecht, which resulted in two papers in two different publications.
Photo above: Anonymous daguerreotype of Jacob S. J. Vriesendorp, his wife Anne Cornelie van Wageningen and their four children, c. 1845 (Stadsarchief Dordrecht, on loan from the Familie-Vereeniging Vriesendorp)