Photo: Eddo Hartmann, Installation view showing Andreas Gursky's Singapore Börse II, 1997 from the Huis Marseille collection in the exhibition Bernd, Hilla and the Others, 2018.
Bernd, Hilla and the Others. Photography from Düsseldorf was an exhibition in Huis Marseille curated with Barbara Hofmann-Johnson, Director of the Museum für Photografie in Braunschweig. It presented photos from the collection of Huis Marseille alongside unknown work by famous 'Becher-Schüler 'and photographs by younger generations of photographers, who studied at the Staatliche Kunstakademie Düsseldorf, 2018.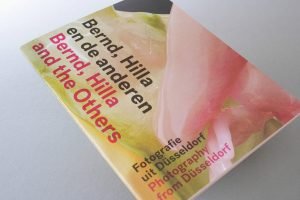 Bernd, Hilla en de anderen. Fotografie uit Düsseldorf
Tentoonstelling: Huis Marseille, 09.03 – 03.06.2018
Boek: zie Publicaties en De Groene Amsterdammer.
In de aanloop naar het twintigjarig bestaan van Huis Marseille organiseerden het museum een aantal exposities rondom thema's uit de eigen collectie. De eerste in deze reeks was deze tentoonstelling met werk van leerlingen van Bernd Becher en van Bechers opvolgers aan de Staatliche Kunstacademie Düsseldorf Andreas Gursky en Thomas Ruff.
De tentoonstelling kwam tot stand in nauwe samenwerking met Barbara Hofmann-Johnson, directeur van het Museum für Photographie in Braunschweig.
Deelnemende fotografen: Bernd & Hilla Becher, Boris Becker, Laurenz Berges, Frank Breuer, Louisa Clement, Elger Esser, Claudia Fährenkemper, Andreas Gursky, Candida Höfer, Axel Hütte, Christof Klute, Simone Nieweg, Tata Ronkholz, Thomas Ruff, Jörg Sasse, Martina Sauter, Thomas Struth, Anna Vogel.
Werkzaamheden: conceptontwikkeling, selectie, teksten, redactie & productie van het bijbehorende boek