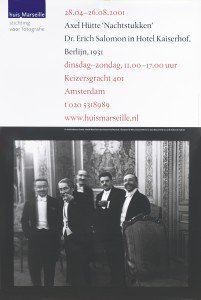 Dr. Erich Salomon in Hotel Kaiserhof, 1931
Audiovisuele presentatie: Huis Marseille, 28.04 – 26.08.2001
Reconstructie van de lezing die fotojournalist Dr. Erich Salomon (1886-1944) in 1931 hield in Hotel Kaiserhof in Berlijn, getiteld: 'Mit Frack und Linse durch Politik und Gesellschaft'. De lezing vormde de aanzet tot zijn beroemde boek Berühmte Zeitgenossen in unbewachte Augenblicken (1931). Onder de aanwezigen waren veel van de door Salomon geportretteerde politici, wetenschappers en kunstenaars. De reconstructie was mogelijk omdat, dankzij de goede zorg van Salomons zoon Peter Hunter, de tekst van de lezing en de glasdia's bewaard zijn gebleven in het Erich Salomon Archief in de Berlinische Galerie. In Huis Marseille werd de lezing in de vorm van een projectie (gemaakt door Hans Samsom en Iwan Baan) met geluid via koptelefoons gepresenteerd. De tekst was ingesproken door schrijver en oud-diplomaat F. Springer.
Werkzaamheden: organisatie & coördinatie, productieassistentie, vertaling oorspronkelijke Duitse tekst in het Nederlands
English summary: Production of the audiovisual reconstruction of a lecture that the famous German photojournalist Dr. Erich Salomon (1886-1944) gave in Hotel Kaiserhof, Berlin, 1931: 'With Tuxedo and Camera through Politics and Society.' The audiovisual presentation was shown in Huis Marseille  in 2001.
Photo above: Dr. Erich Salomon, Marlene Dietrich talking to her daughter in Germany from Hollywood, 1930 (scan from the original glass slide in the collection of the Berlinische Galerie)